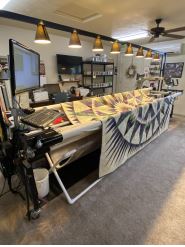 CUSTOMER QUILT POLICY - To be fair to our customers, all quilting services are on a first come first served basis. Please be aware that there will be a Rush Fee of $25.00 for any E2E quilt that is needed by a certain date or rushed ahead of the other quilts.
Edge to Edge All Over Quilting (E2E): Starts at $.0175 - $0.025 psi depending on how light or heavy you want the quilting to be.
Light: $0.0175 psi

Medium: $0.0185 psi

Heavy/Complex Patterns: $0.02 - .025 psi
Thread:

Light Quilting: $4.00
Medium Quilting: $6.00
Heavy Quilting: $8.00
Seaming: $10.00 per seam - If I need to sew and iron your back or make it larger to fit on the quilting frame, this charge will be assessed.
Extra Trimming: $10.00 - We will charge a trimming fee if the top fabric, backing or both needs to be squared and trimmed in order to load it on the machine straight. However, trimming the quilt after its been quilted is a FREE service included with every quilt unless you indicate on your order form if you do not want it trimmed..
Binding:
$.25 per running inch - We cut and prepare strips for machine sewing on the front of the quilt and hand binding on the back. Example: if the finished quilt is 60"x60", take 60" x 4, (for all 4 sides) = 240" . 240 x .25 = $60.00 to have this size quilt hand bound.
Batting We Use:
HOBBS 80/20 Cotton Poly Blend - Natural & Bleached White
HOBBS Poly-down Lo Loft .
HOBBS Washable Wool
Legacy Bamboo 50/50
HOBBS 100% Cotton
All prices are subject to change at the discretion of the quilter